(C) Scottish Society of Martha's Vineyard, 2021 - P.O. Box 1895, Vineyard Haven, MA 02568
2021 "Virtual" Burns Nicht Supper - Section 3 of 3
"Toast to the Laddies & Lassies"
Presenters, Harvey Ewing & Mary Lambert
1988 Burns Nicht Supper
"Auld Lang Syne" & "Amazing Grace"
Closing moments of the
original 1988 Burns Supper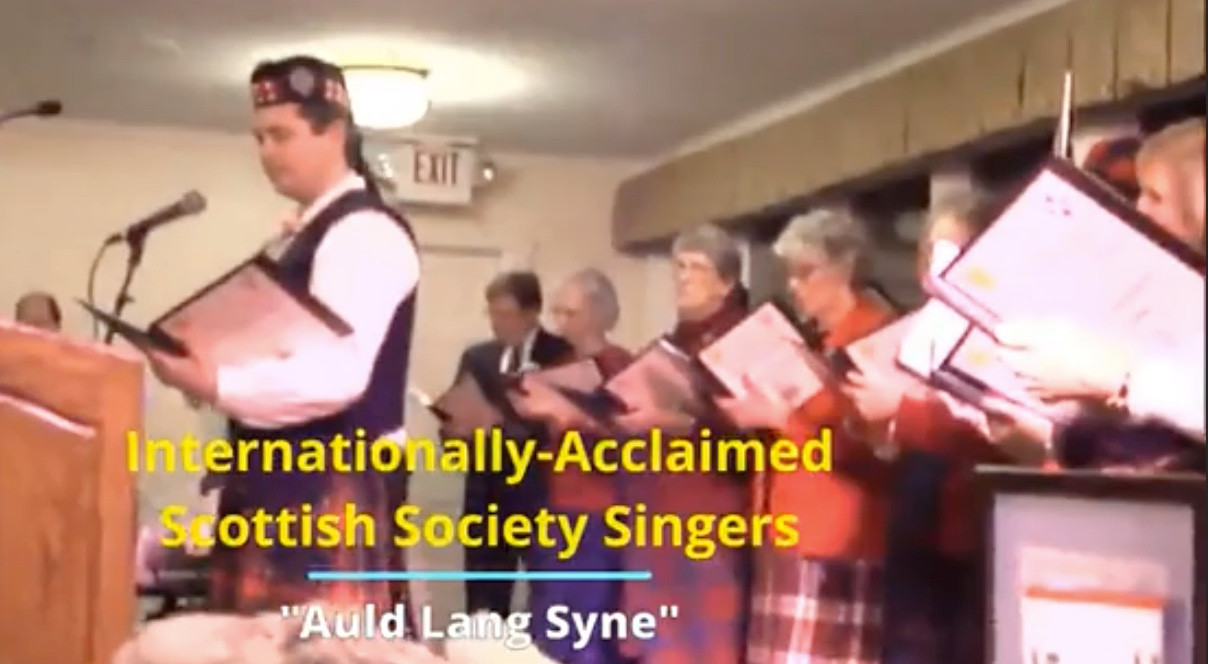 "Auld Lang Syne"
The Internationally Acclaimed Scottish Society Singers
"The Immortal Memory"
a Tribute to the Immortal Bard
Mary Lambert, 1989 Burns Supper
"Address to the Deil"
by Robert Burns
Recorded in 2021 for the SSMV
Burns Supper by David Roy,
Crail Golfing Society of Fife,
Scotland
The Flowers of the Forest
I've heard the lilting, at the yowe-milking,
Lasses a-lilting before dawn o' day;
But now they are moaning on ilka green
loaning; "The Flowers of the Forest
are a' wede away".
As buchts, in the morning, nae blythe
lads are scorning; The lasses are lonely
and dowie and wae.
Nae daffin', nae gabbin', but sighing
and sobbing, Ilk ane lifts her leglen,
and hies her away.
In hairst, at the shearing, nae youths
now are jeering, the Bandsters are lyart,
and runkled and grey.
At fair or at preaching, nae wooing, nae
fleeching, the Flowers of the Forest are a'
wede away.
At e'en, in the gloaming, nae swankies
are roaming, 'Bout stacks wi' the lasses
at bogle to play.
But ilk ane sits drearie, lamenting her
dearie, The Flowers of the Forest are
a' wede away.
Dule and wae for the order
sent our lads to the Border;
The English, for ance, by guile
wan the day:
The Flowers of the Forest,

that foucht aye the foremost,
The prime o' our land are cauld
in the clay.

We'll hae nae mair lilting,
at the yowe-milking,
Women and bairns are dowie
and wae.

Sighing and moaning,
on ilka green loaning, the Flowers
of the Forest are all wede away.
Meaning of unusual words:
yowe=ewe
ilka=every
wede=withered
buchts=cattle pens
dowie-sad
wae=woeful
daffin'=dallying
gabbin'=talking
leglen=stool
hairst=harvest
bandsters=binders
lyart=grizzled
runkled=crumpled
fleeching=coaxing
gloaming=twilight
swankies=young lads
bogle=peek-a-boo
dule=mourning clothes
The lyrics below were written by Jean Elliot in the 18th century
and is a reworking of an older song about the non-return of the large
number of Scottish soldiers after the Battle of Flodden. www.rampantscotland.com
ENTER OUR PHOTO CONTEST!
Take photos of how you celebrated
the Burns Super tonight. Email two of your
favorite photos to Steve Ewing
A gallery of photos will be posted so viewers can vote for first, second, and third prize winners. You have until the first of
February to enter.
Thank for Attending Our 2021 Virtual Burns Supper. We Hope You Enjoyed This Experience.
We All Hope to Gather Together In-Person for Our 35th Burns Nicht Supper in 2022.
Stay Safe Until We Meet Again
Richard M. Rego, Dorian Lopes, Nathan Lopes, and Bruce Nevin, Webmasters