(C) Scottish Society of Martha's Vineyard, 2017 - P.O. Box 1895, Vineyard Haven, MA 02568
On April 6th every year, Scots the world over
celebrate our Scottish heritage at Tartan Day.
It commemorates the Declaration of Arbroath
that was signed in 1320, declaring Scotland's
Independence.
The Scottish Society's 2017 Tartan Day Event
will take place from 1 PM to 3 PM on Saturday,
April 8 at the Chilmark Library. This popular event
brings together Scots of all ages to celebrate
through song, dance, and various other activities
4th Annual Shortbread Contest
Crafts for Kids of All Ages
Lots of Singing and Great Company
Glorious Bagpipes and More.
So take a few hours out of your busy day
and enjoy your Scottish heritage. It's a great way
to de-stress after a busy week.
Scottish Society of Martha's Vineyard Museum Exhibit Opening
a Huge Success! Open Until the End of March. Don't Miss it!
Don't Miss Tartan Day 2017!
Saturday, April 8 from
1PM to 3 PM
at the Chilmark Library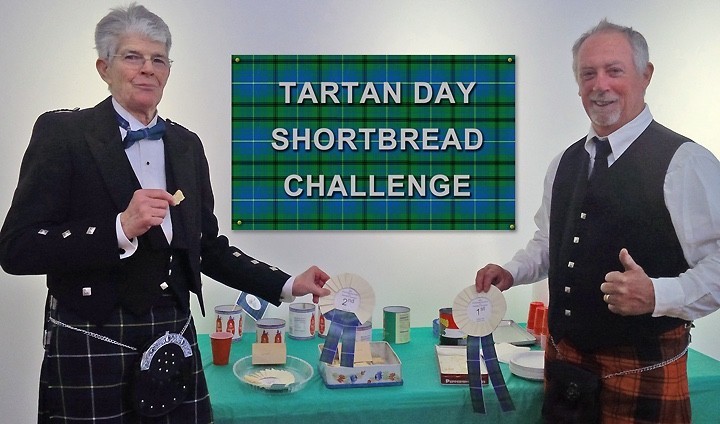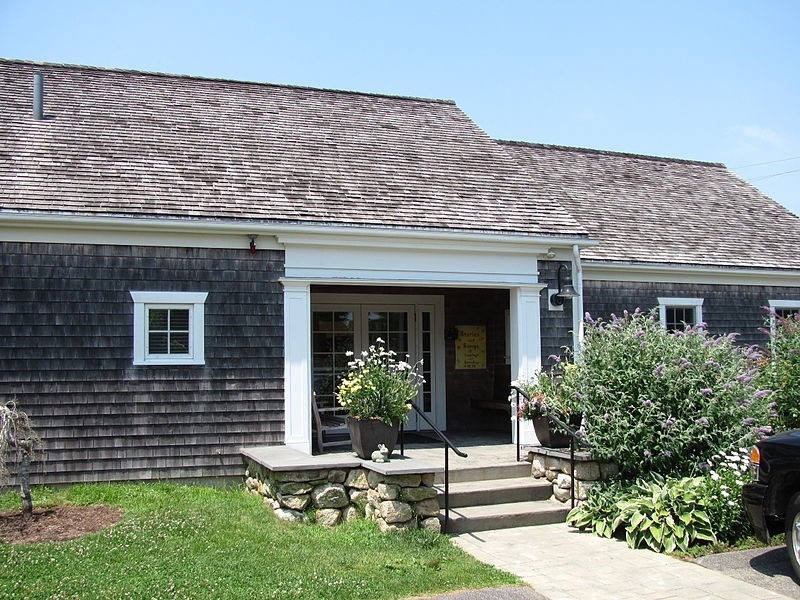 Article by Donna Blackburn
Friday, March 3rd, 2017, from 4 to 6 PM, a "standing room only"crowd filled the MV Museum in Edgartown on the corner of Cooke and School Streets. The event that everyone had come to take part in was the opening of the Scottish Society of Martha's Vineyard Exhibit to celebrate its 30 years of existence. Colorful kilts and and family tartan sashes could be seen throughout the museum's library as a museum staffer was heard to say "....I've never seen so many people come to our museum openings!...".
SSMV member, Patricia Correia, worked with the museum's coordinators to gather all sorts of Scottish accoutrements for this wonderful exhibit. Steve Ewing, one of the SSMV's past presidents, and son of one of the founders (Harvey Ewing), explained how the Vineyard's Scottish Society started from a street corner "gab session" with other islanders of Scottish descent, to the organization that it is today. He thanked Duncan MacDonald for her input and encouragement in helping to keep the SSMV going after the passing of most of its founders.
Come back soon to check out
new photos of this event!
Steve Ewing took the audience through
a "brief" history of Scotland, explained
the Burns Night celebration, and he
enlightened the gathering about Tartan
Day...all with the touch of humor that
Steve is noted for. He continued to tell
the gathering about the creation of the
MV Tartan, and what it took to get the
"correct" fabric design colors. His
original poem,which Steve read aloud,
summed up the trials and tribulations
it took to complete this lengthy project!
Next on the program, the audience enjoyed some
a capella music supplied by the Scottish Society Singers under the leadership of Music Master, Phil Dietterrich and assistant, Dorian Lopes.
Then the gathering processed into the museum to view the colorful exhibit featuring Bob MacKay's rendition of Burns"Ode to a Haggis", watch a slide show of past Burns Night Dinners, get to see a sporran "up close", view a poster of Scottish Clans and a list of Scots who have made their mark all over the world, sample some haggis, taste a "wee bit o'Scotch", and chat with other attendees who were all having a good time at this festive museum opening!
The exhibit will be in place until the end of March, so we hope you will take a few minutes to stop by and take a look during the museum's open hours.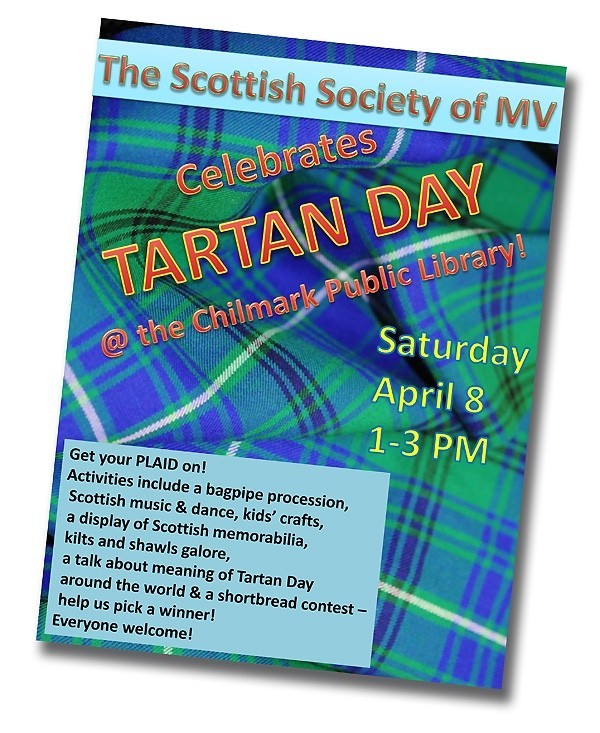 Friday is the MV Museum's "PechaKucha Night"
7:30 pm at the Harbor View in Edgartown.
Steve Ewing, Edgartown's Official Bard will be doing
a Scottish Society presentation. Let's all go and show our support
for Steve, the Museum, and for our Scottish Heritage!
LAST MINUTE NOTICE - Friday, March 31 at the MV Museum!